Joe Allen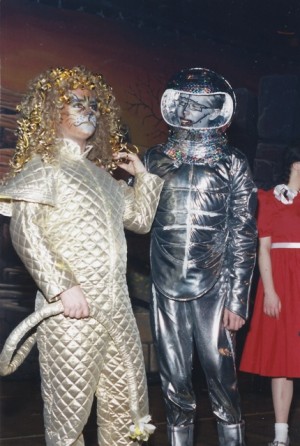 Joe Allen as the Lion and Richard Adkins as the Tin Man - The Wiz (2001)
Joe's Roles in WOW!
One of the brothers in Joseph and the Amazing Technicolor® Dreamcoat (1996)
Big Deal in West Side Story (1997)
Annie (1998)
Alphonse in The Boy Friend (1999)
Burt in 42nd Street (2000)
The Lion in The Wiz (2001)
Favourite WOW! Show
The Boy Friend – because it was such fun doing a show that is so cliché
After WOW!
Joe went to London School of Musical Theatre and is now appearing in Charlie & The Chocolate Factory at Drury Lane, London as An Oompa Loompa.
Favourite Experience
Playing to 2500 at Drury Lane every night is a dream come true!
Joe's Advice for Aspiring Performers
"My advice is to take your education as far as you can go. Any qualification you can get like a degree or A levels will help you when you are out of work which as actor will be a lot of the time! If you get one in twenty of the auditions you go for you're doing well. It's such a hard business but it's incredibly rewarding. You have to be prepared to grow a very thick skin – there are lots of knockbacks but they make getting the jobs all that sweeter!"