John Dagleish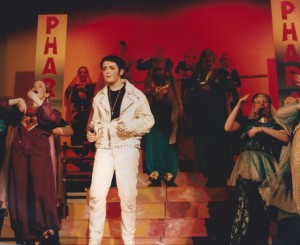 John as Pharaoh - Joseph and the Amazing Technicolor® Dreamcoat (1996)
John's Roles in WAOS and WOW!
The Artful Dodger in WAOS' Oliver (1995)
Pharaoh in in Joseph and the Amazing Technicolor® Dreamcoat (1996)
Bernardo in West Side Story (1997)
Percival Browne in The Boy Friend (1999)
After WOW!
John studied at The Drama Centre, London, before landing a part in the BBC1 costume drama "Larkrise to Candleford", which ran for four years. He has also been seen as a regular character in "Starlings" for Sky1, "Beaver Falls" for E4 and most recently in "Truckers" for BBC1.
John has also starred in flims such as Age of Heroes (2011), The Monuments Men (2014) and Snow in Paradise (2014).
John recently played the part of Ray Davies in "Sunny Afternoon", the story of the Kinks which sold out at the Hampstead Theatre, London and then moved to the Harold Pinter Theatre in London's West End. On 12th April 2015, John was awarded the Olivier Award for Best Actor in a Musical for this role.