Sam Carlyle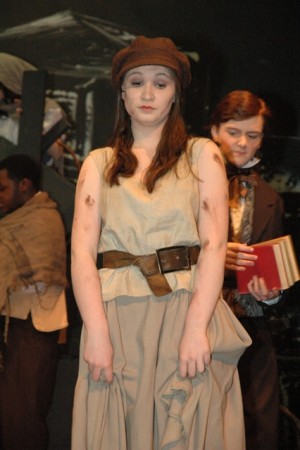 Sam's Roles in WOW!
Anita in West Side Story (2011)
Eponine in Les Misérables (2009)
Taylor in High School Musical (2008)
Lambchops in Fame (2006)
Babbette in Little Shop of Horrors (2005)
Favourite WOW! Show
Les Mis because it was the part I always wanted to play and we were so close as a cast and a creative team.
Favourite WOW! Memory
When myself, Amy, Elliot and Sam Marks were taking Thenardier family photos and Sam's song played on the tannoy and he realised he was late for his song.
Awards
Sam won 4 choreographic awards.
After WOW!
Sam went on to the Urdang Academy in London where she is training for a National Diploma in Musical Theatre and Professional Dance.
Favourite Urdang Experience
Being one of the chosen few in her year to study a course specifically for strong singers and actors to progress for her 2nd/3rd year.
What is Urdang like?
Amazing, a bit like the fame school. Very alive with a family atmosphere. Beautiful building in a central London location.
What Next?
Sam is hoping to perform in the West End.
Sam's Advice for Aspiring Performers
Don't underestimate how important dance is
Always be present and give your all
Treat every class as a performance
Be yourself!
The business is tough... If at first you con't succeed, don't give up. Be driven and work hard and you'll earn it