Victoria Croft (Victoria Adkins)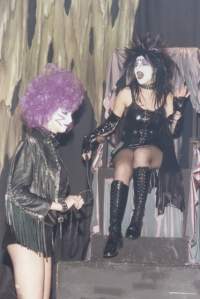 Victoria (right) as Evillene - The Wiz (2001)
Victoria's Roles in WAOS and WOW!
Chorus member in WAOS' Oliver (1995)
Singing Choir in Joseph and the Amazing Technicolor® Dreamcoat (1996)
One of the Jets in West Side Story (1997)
A French Maid in Annie (1998)
Shy in WAOS' Best Little Whorehouse in Texas (2000)
Evillene in The Wiz (2001)
Pistache in WAOS' Can-Can (2001)
Louise in WAOS' Carousel (2006)
Favourite WOW! Show
"My favourite WOW! show is The Boy Friend because I seemed to come out of my shell during this show and realised my potential. I was very shy growing up and performing was fantastic for me because it allowed me to hide behind a character. It took some years, but in doing this show I gained so much confidence in my abilities as an actress, singer and dancer. It was a turning point and from that moment on I started thinking more seriously about following a career in the performing arts."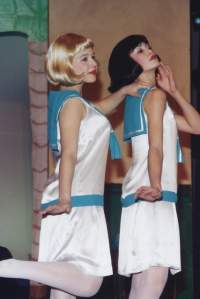 Victoria (left) as Fay in "The Boy Friend" (1999)
Favourite WOW! Memory
"There are so many! It was great working with a bunch of like-minded people and it certainly helped me to take my mind off the pressure of school work and exams. I was always conscientious when it came to school work but I think having the option to escape into a world of weird and wonderful characters really helped me to keep sane during those stressful times!"
Awards
Victoria received a NODA award for Best Young Actress for her portrayal of Pistache in WAOS' 'Can Can' (2001).
She also received various awards at school for Dance, Drama and Singing; as well as a Drama Scholarship at Sixth Form.
After WOW!
After WOW!, Victoria went to Manchester University to read English and Drama. She then took a year out, living and working in London, before beginning actor training at Drama Studio London.
During her training Victoria played some fantastic roles, including:- Hedda Gabler, Mrs Marwood (The Way of The World), Saunders – the all-singing, all-dancing maid in Noel Coward's Fallen Angels, Juliet in Romeo and Juliet, Sabine/Rose in Nana and Feste, a fat-suited Scottish dancing clown in Twelfth Night. She was also a candidate at the Carleton Hobbs Bursary Award Scheme at the BBC for radio drama.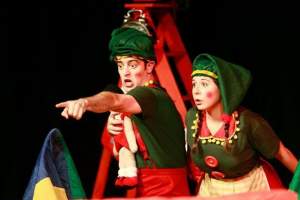 Victoria as Dibs in "Santa's New Sleigh" at Leicester Curve (2012)
Since graduating, Victoria has played a variety of roles, from Shakespearean to modern, to a Cockney Gal in Me and My Girl at The London Palladium to Principal Girl in Pantomime and Italian coquette in Venezia at Teatro San Gallo, Venice. In the past year or so she has performed in Restoration plays, a Christmas show at Leicester Curve, and musicals, namely 'Elegies for Angels, Punks and Raging Queens' and most recently Offie nominated 'When Midnight Strikes' Upstairs at the Gatehouse.
"Theatre school is so much fun because you get to do what you love every day so you enjoy working long hours and doing the commute! Not only that, but you are given fantastic roles to play, along with learning how to use your voice, how to move/dance, how to act for tv and radio etc. You have to grow a thick skin, however, because you're not always going to like the honest feedback you receive from directors and tutors. I guess this is all part of the process of learning how to deal with the harsh realities of the acting world once you leave Theatre School."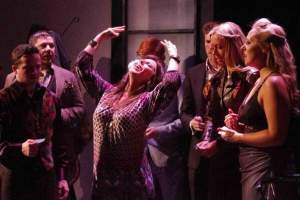 Victoria as Zoe in "When Midnight Strikes" Upstairs at the Gatehouse (2013)
"Surviving as an actor can be very tough. It's a cliche but it's so true - you have to deal with lots of rejection and you need to make sure you have another way of earning money because very few actors can rely on making a consistent income from performing alone. Staying strong and not getting bitter can be very difficult but I would encourage everyone to get involved with casting workshops, classes and networking events; anything that keeps your performer's brain active!"