2008 - High School Musical
The Show
WOW's 2008 production was High School Musical, performed from Monday 11th to Saturday 16th February. The show was a sell out!
Click here to download the programme from the show. Be patient - it may take a few seconds to load.
Reviews
Local journalist Ron Fosker and John Warburton of NODA reviewed the show after visiting over the course of the week, their reviews are below:
Ron Fosker's Review
Witham clearly has an abundance of acting talent at its disposal.
Only a few weeks after the Witham Music Theatre wowed us with their version of Pal Joey, the Witham Operatic Workshop put the town's younger talent on display - and they too passed with flying colours.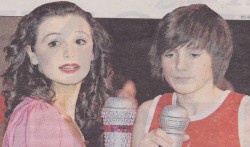 For this production, the lead roles were entrusted to two of the company's younger members, and what an inspired decision that turned out to be.
Zoe Rogers, 12, and Jake Davis, 13, both gave amazingly mature performances and they were well supported by 15-year-olds Rhianna Howard and Thomas Holland, plus more than 30 others.
Director Angela Briley and her choreographer Natalie Wilson deftly handled the challenge of 30-plus dancers, who all moved fluently about the stage in a riot of red and white as if they had their own allotted space.
But the night belongs to Zoe and Jake. Their accomplished singing, with sweet harmonies, and acting suggested we will see much more of them.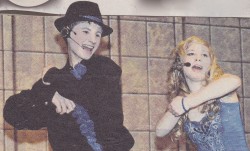 Thomas, too, was a source of delight as he camped it up with relish, while Rhianna, as his twin sister, bitched it up with menace.
There were also solid performances from: Tom Flynn as the brash Chad; Amy Trigg as the shy, or not so shy, Kelsi; Jess Rodda as the stern Ms Darbus; Thomas Clarke as the all-American over-the-top MC; Poppy Gerrard and Martha Cox as the conniving schoolfriends; and Steve Rogers as the basketball coach.
NODA Review by John Warburton
In this occasion of my first exposure to the phenomenon that is this show, I felt vulnerable. Here was a sell out with a large waiting list. What was I, lover of the strong story My Fair Lady and the magic of the Merry Widow, going to be able to say about this?
Let me tell you that I thoroughly enjoyed it, because, though the story may be slight in adult terms, its presentation is warm, it is amusing, it has boundless energy and, though it's nice to keep up with the detail, it does not require one to hear every word to be swept along with its sheer enthusiasm and optimism.
Overall this was an energetic and outgoing show that grabbed audience attention from the start. Character relationships were very good throughout and even if some, Sharpey, Ryan and Jack Scott were a touch overplayed they were much appreciated. The set was straighforward and versatile for the various scenes amd scene changes were handled well. Costume and wigs were fine. Lighting was generally fine with some good effects. Microphones were not used for dialogue, but projection was very good, through occasionally heavy underscore. Sound control was a bit erratic in some solo items, but generally both choral and solo singing were good and the orchestra drove when it mattered in the upbeat numbers. The audience loved it and rightly so. Congratulations to all.