About Us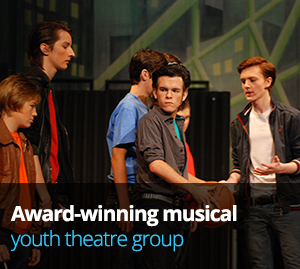 WOW! is an award-winning musical youth theatre group based in Witham, Essex. Our talented and enthusiastic performers' ages range from 11 to 21. WOW! is the junior section of Witham Amateur Operatic Society (WAOS) and has been performing a variety of challenging and outstanding musical theatre productions every year since 1996.
WOW! is a not for profit, volunteer-run musical youth theatre group for 11-21 year olds based in Witham, Essex, England and is a subsidiary of Witham Amateur Operatic Society, Registered Charity Number: 265029. All our funding is based on box office returns from our annual production.
We perform at the Public Hall, Collingwood Road, Witham, Essex, usually in the half-term week in February. Prospective members are warmly welcomed to join us for our spring and summer workshops and for auditions in September each year. Our 2015 show will be Our House which will run 16-21 February 2015. If you're interested in taking part please Contact Us.
Please feel free to look around the site, especially our "Hall of Fame" in the Past Shows area, including WOW's past productions of Grease (2014), The Boy Friend (2013), Footloose (2012), West Side Story (2011), Hot Mikado (2010) and Les Misérables – School Edition (2009).