Join WOW!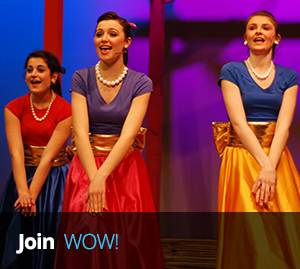 To join WOW! you must be between the age of 11 and 21. If you are, then you can audition for a part in any of our forthcoming shows. Auditions are held every September.
There are a few things to bear in mind when thinking of joining WOW!:
Putting on a show is a commitment. It takes hard work, determination, enthusiasm and energy!
Bear in mind our location. WOW auditions, rehearses and performs in the town of Witham in Essex.
When you become a member of the cast, you make a commitment to the team to attend rehearsals, to be on time and to have any kit or props.
Your parents must agree to your joining. We encourage parents to become actively involved with their children throughout the productions. It is important that parents understand the needs of the child during a show.
There is an annual membership fee and there is also a production fee. We aim to keep this modest but in the case of financial hardship the Committee will look at individual cases.
Rehearsals towards show week itself are very intense and occur more frequently
If you think you would be interested in joining us then telephone the WOW! Kids Team, Steve Rogers on 07540 634121 or e-mail Steve at wow.kids.team@wow.org.uk ... and/or subscribe to our Facebook, Twitter or mailing list for updates.
WOW! Workshops
Between shows in April-July, WOW! run workshops open to all 11-21 year olds on techniques related to musical theatre.
WOW! Summer Schools
WOW! have run two summer school weeks each year since 2013: a week for 8-13 year olds and a week for 13+ year olds, both in August. See our Summer Schools page for details of our 2022 Summer Schools.
WOW!'s Next Show
Our next show will be All Shook Up which will run 13-18 February 2023. Auditions for All Shook Up will take place starting Sunday 4th September 2022 at the Witham Public Hall 10.00am.