2011 - West Side Story
The Show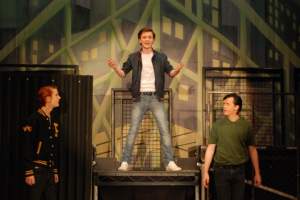 Reviews of this show are posted here. Most performances sold out and received excellent feedback from representatives of North Essex Theatre Guild, Braintree & Witham Times, NODA, Michael Gray as well as many other members of the audience.
Check out the West Side Story programme here. This may take a few seconds to load.
Reviews
Braintree & Witham Times Review – Ron Fosker
It is somewhat gratifying for those of us who remember the premiere of West Side Story more than 50 years ago that today's teenagers are keen to perform it. For this was their choice: it was not foisted on them.
This is not a happy-go-lucky High School Musical-type musical. It is almost operatic, occasionally balletic and ultimately tragic.
It is also energetic, frenetic and chaotic – and extremely demanding.
Yet WOW once again rose to the occasion superbly. This was a performance of depth and poise, bringing home both the joy and the pathos of the star-crossed lovers borrowed from Shakespeare.
They conquered the complicated dance routines, handled the American and Latino accents with aplomb and coped without difficulty with the harmony and counterpoint required by the challenging score.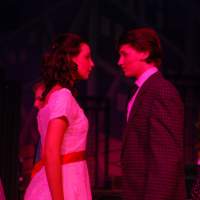 The two leads, Thomas Holland and Zoe Rogers, shone, as they always do, particularly in the dramatic numbers with their unusually wide range. The showstoppers Maria, Tonight and Somewhere require strength and control and they were more than equal to it.
In a story with themes that still resonate today such as gang mentality and intolerance – 'you don't belong here: go back where you came from' – they were given excellent support by a strong cast.
Jake Davis and Josh Read captured the menace and bravado required of the two gang leaders, Max Holland and Elliott Elder brought some light relief as the thorn-in-the-side younger members of the gang, James Simpson was sneeringly nasty as the police lieutenant, and Gemma Gray, Matilda Bourne, Faith Rogers and Martha Lawless brought life to their backing roles.
And it was especially pleasing to see the excellent Sam Carlyle given a role she could get her teeth into. She was at her most minx-like as Anita.
With a vast cast to engineer about the stage, director Angela Briley and choreographer Natalie Wilson had their work cut out, as did the fight coordinator Peter Fishwick.
Their efforts were well rewarded – by an excellent company and a very appreciative first night audience.
Michael Gray's Review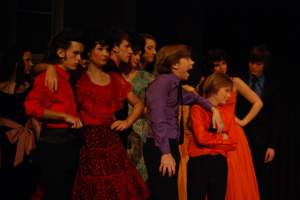 A crisp, characterful overture, and we're into New York's Upper West Side – a stylish Futurist backdrop looming behind the concrete stairways and playgrounds.
The stage is filled with two opposing gangs, their interaction no less menacing for being energetically balletic. Both Sharks and Jets looked absolutely right – that awful 50s hair especially, though it might have been helpful to have them more distinctly differentiated, in particular for the powerful moment at the end when they unite around Tony's lifeless body.
WOW boasts some very experienced young performers, and it was good to see them respond so successfully to the challenge of this classic piece of music theatre.
Zoe Rogers was a great Maria – warm singing voice, huge emotional depth. Her Tony was Thomas Holland, whose relaxed style and winning way with the big numbers made for a very impressive performance, even if vocally he was pushing the limits of his instrument. Elliott Elder made a convincing Baby John, while Josh Read, a relative newcomer, had bags of energy, and a promising voice, as Bernardo; Anita was played by Sam Carlyle: her voice and her accent were spot on, and she was an accomplished dancer, too. Her duet with Maria was a vocal highlight of the show for me. As Riff, the feud's first victim, Jake Davis gave a memorable performance. His easy stage presence, his lithe physicality, and his effortless way with the music made for an incredible achievement for a performer of his age.
There were many enjoyable numbers – the I Feel Pretty Trio, and the inventive Krupke sextet – and plenty of eloquent stage pictures: the stylish first meeting of these star-crossed New Yorkers, their long Good Night across no-man's-land.
Sometimes we might have liked a bit more depth in the lighting – in the duel, for instance – and the climactic gunshot went for nothing. I found the curtain calls too stagily traditional – Maria was still clearly feeling the emotion of the tragic ending, as we all were, and I would have liked the calls to reflect that, as the a cappella closing chorus so movingly did.
West Side Story was directed for WOW by Angela Briley, with Natalie Wilson in charge of choreography, and Susannah Edom the Musical Director.
Stuart Brown's Comments
Hi Stewart,
Please pass on my congratulations to all involved with 'West Side Story'..superb! Much enjoyed by all of us at Rufus Leo and my Mum and Dad who joined me for the Matinee. The Choreography & Direction with effective fight sequences and superb use of that small stage were of West End quality a lot of the time and the great orchestra and talented singers really mastered a very difficult Musical score. Probably the best Amateur show I think I've ever seen in terms of overall quality of the whole cast. Very Well done..Thank you Cheers Stuart Brown
John Warburton (Area Councillor – NODA)
Dear Stewart,
I know that we spoke on Thursday evening about the West Side Story production, but I do need to formally thank you, as the Chair of WOW, for the invitation and to record how much we enjoyed the show.. Ann will no doubt be making a fuller report, but I just wanted to record a few thoughts on what I felt to be a very good performance.
What often makes things difficult for the audience in watching a performance of this show, is the manner in which the conflicts and ties between characters and groups are displayed. Down to earth ranging to arty. In this context, this one of the best productions that I have seen in that it captured those moods of bitter hatred, in such a convincing and energetic way. In doing it so it did make me feel uncomfortable about what people can do to people, for no purpose other than to express inherited and embedded points of view. It was all there, the hate arising from the need to possess, to defy, and the love between two people that in the end failed to overcome the anger exhibited by their clans.
Musically in diction and tone and energy, the soloists were well up to the task with chorus work too being very good; all accompanied by a class orchestra, expertly directed and doing that most difficult of things successfully, keeping a good balance between pit and stage whilst allowing the tone of each scene to be expressed.
Scenically too representation of places was fine and changes were well done given the stage size, but just a tiny point, stage crew black detracts if changes are in light whereas clothing in keeping with the on stage characters tends to distract much less. Sound and lighting was also well in tune with that required.
Overall there may have been just one or two slightly uneven patches, and it would be too much to say that each characterisation was absolutely right, but to me the overall effect was quite compelling, and I can quite honestly say that this was a show where the vigour of youth and its direction brought out elements of the show that I had not appreciated before to quite the same degree..
Please convey my thanks and appreciation to all concerned.
Regards
John
Eric Smart (Chairman of NODA) said
Hi Debbie. I thought I would quickly put this e-mail in the system as I am in London all day tomorrow and followed closely by my own rehearsal and therefore unlikely to have the time to send it tomorrow.
I just wanted to say how much Wilma and I enjoyed the show tonight. It really was a stunner and hard as I try, I canot find anything to criticise. Both principals and chorus were immaculate in their execution of their roles. The choreography and direction deserve a great deal of the credit for the show's success also. Scenery, costumes, sound and lighting were perfect and I compliment the group particularly on the excellent hairstyles, which are so often overlooked. The orchestra's expertise was well rewarded by a completely silent audience during the overture and their further playing was super. All in all this is a production of which the entire company can be proud. I wish you well for the continuing run.
Thanks again
Eric
Review by Ann Platten, NODA East
A really slick production of the Bernstein/Sondheim classic show West Side Story from this young company who gave a gutsy account of the story and the gang warfare between the rival gangs of the Jets and the Sharks.
The pace was fast, and the dance routines expressed the feel and mood of teenagers, none more so than the fight sequences directed so well by Peter Fishwick.
The scenery added the idea of the mean streets especially and was used to good effect. With a production listing twenty eight characters it is impossible to comment on each and every one as it was to all the cast's credit the show was so good. But I must mention the singing voices of Zoë Rogers as Maria and Thomas Holland as Tony who were exceptional. The voice range required from both of the characters is demanding, and it was to their credit that the control over the top range of their singing was maintained until the very end of each song.
All of the musical numbers were so well supported and enhanced under the Musical Director's sympathetic and skilful use of the Orchestra. This is a great score which was played at a volume which blended so well with the voices. It was so enjoyable from the audience's perception to really hear all the fine toning coming through.
Selecting the principal parts at auditions must have been very difficult as I felt that there were so many good voices and very competent actors and dancers on the stage and all so confident to choose from. The talent in the area just keeps getting better and especially so with this company. Costumes lighting sound and scenery were well appointed, and a plus to the overall production. Angela Briley who last directed "High School Musical" with WOW has every right to feel a huge sense of pride in this production, as has Susannah and Natalie. This was a very good evening's entertainment. I look forward to "Footloose" in 2012 from WOW and of course "Anything Goes" with WAODS later this year in May.
Many thanks also for your hospitality which is appreciated.
Reviewer – Ann Platten
Adjudication
West Side Story
WOW
Monday 21st February 2011
Witham Public Hall
Adjudicator – Sally Fisher
Assisted by – Andrew Hodgson
Introduction: We arrived at Witham public hall to a busy front of house due in the main to all tickets being sold for £5.00 on opening night. Needless to day the performance was a sell out, I must say what a fantastic idea to sell the tickets like this for a first night, it must be a tremendous boost to the cast to be greeted by such a large audience. We were given our tickets from a very friendly box office manager and then shown to our seats by another personable member of the team.
Before the performance I had time to study the programme, it was well designed and gave the audience a good synopsis of the show together with information about the cast.
The set was simply designed but in keeping with the action. I must say that the "Sharks Stink" sign that was left centre stage for the entire show did rather detract from some of the action and should have been removed after the opening.
The balcony was rather small and I did feel worried at one point that Tony might topple off but somehow he managed to stay put! One slight niggle was the Humphrey Bogart poster which was a forties classic, perhaps it could have been more relevant to the youth of the 50s advertising a film such as Rebel Without a Cause?
All in all though the set worked well on the small stage and I was impressed with the stage crews quick and slick changes.
Props - Good attention to detail and in keeping with the era. I particularly liked the "wedding" scene with the dummies which was well thought out with many excellent props.
Ligthing & Sound - The lighting in general was well done and added to the excitement or pathos of each scene. The lighting on Maria and Tony singing "Somewhere" was particularly poignant. Sound was well balanced and the orchestra blended well with the singing. The head microphones were unobtrusive and did not detract from the action.
Costume & Makeup - The costumes had all been well thought out and were very much in the correct style of the era. I like the authenticity of the girls dresses, especially the simplicity of Maria's compared to Anita's more gregarious look. The Jets and Sharks were also suitably attired reflecting the mood of both gangs. The wigs I thought were very good, especially Anita's, very realistic. Make-up was subtle but effective and all looked great.
Cast
Tony (Thomas Holland) Thomas commanded the stage without being over the top. He was endearing and immediately you could feel the audience warming to him. He had a lovely tone to his voice and I particularly enjoyed "Something's Coming" The relationship between Tony and Maria was lovely and we truly believed the love they had for each other. Well done, excellent performance.
Maria (Zoe Rogers) Zoe, I could not believe how young you are, yet you were totally believable playing the young Maria. Your voice and vocal skill belied your young age and I became totally swept along with your lovely portrayal. Your innocence and beauty were perfect for the part and your voice was well controlled, beautifully sung with diction clearly audible. Fabulous performance, very well done.
Riff (Jake Davis) I enjoyed Jakes performance, he is obviously very much at home on the stage and makes a commanding presence. Be careful not to play out front too much, you need to interact a little more with your fellow performers instead of the audience. Having said that though your performance was assured and well done.
Bernardo (Josh Read) I found Josh to be a little inaudible at times and his diction a little unclear. Perhaps you could try to practice projecting your voice a little more to make your self heard. Your character was well thought out and you showed Bernardo's strength of character, particularly in the fight scenes.
Anita (Sam Carlyle) Sam played Anita well with a confident rendition of the character. Your singing voice was strong and you exhibited clear diction. I liked your portrayal of Anita and her almost motherly relationship with Maria, especially the way you showed her softer side. Very well done.
Chino (Max Clements) Some nice moments particularly when you were getting emotional. Try to project your voice little more so we can hear all your lines.
Graziella (Gemma Gray) Velma (Charlotte Watling) A good pairing and some lovely dancing from these two. You both played your parts convincingly and worked well with your dancing partners.
Francisca (Tilda Bourne) Rosalia (Faith Rogers) Consuela (Martha Lawless) A convincing trio with particular mention to the show stopping "I feel pretty", which was one of my favourite parts of this show. Convincing acting and strongly danced choreography well done all of you.
Anybodies (Stephanie Winch) A difficult part to play for a girl who is struggling to be accepted by the boys and fighting her femininity. Stephanie played the part with lots of energy, made the character likeable and yet gave the audience enough of an insight into the struggles in her life for us to feel empathy with her. Well played.
Girl Soloist (Rachel Goddard) A little shaky to begin with but showed some nice qualities. Try to support more in your diaphragm in order to achieve the notes you need.
Officer Krupke (Marcus Churchill) A good stooge for Lt Shrank, Marcus played this small, but vital, part well and with good thought to how the character should be played.
Doc (Peter Fishwick) I enjoyed the pathos Peter brought to this part. He showed great empathy with the character and built a lovely father figure relationship with Tony.
Glad Hand (Luke Merriman) A small cameo part but Luke made an impact from the moment he came on stage. A well thought out and amusing performance.
Lt Shrank (James Simpson) James played Shrank with all the necessary authority required for the part. He had good stage presence and I liked his portrayal of the character.
The Jets - Action, Big Deal, Baby John, Snowboy, A-rab, Diesel. The Jets performed well as a group and were a believable gang. Special mention should go to Baby John and A-rab played by Elliot Elder and Max Holland who were so watchable and provided some very funny comic moments!
The Sharks - Nibbles, Indio, Pepe, Juano, Toro, Moose. Again, a convincing group working well as a team, some good performances, well done!
Ensemble/Dancers - Well rehearsed and each number they appeared in was confidently presented.
Musical Direction - The musicians, under the careful direction of Susannah Edom, were all well rehearsed and played competently throughout the show. The chorus and soloists all gave commanding performances and the harmonies were particularly good. I did notice some of the boys miming in the Jets song, was this because it was too low for them? All in all a well drilled company and some excellent singing, well done.
Choreography – Natalie Wilson's choreography, although very traditional and true to the original film version of West Side Story, was a triumph. The cast had been drilled to perfection and they all danced effortlessly and confidently. Apparently some of the cast had never danced a step before but thanks to Natalie's skill and tenacity there did not appear to be a step out of place or an arm in the wrong direction. This show relies very much on the skill of the choreographer and Natalie should be commended for her imagination and attention to detail. Very well done.
Direction – Angie Briley helped create a confident and believable set of main characters her direction made them really come to life and drew the audience into the story. I liked the way she included all members of the cast in the main action, it was good to see that all members of the society, no matter what there ability, were given the chance to feel important and very much part of the show. You could tell that the whole cast gelled well together from their energy and obvious love of being on stage, it was very much a team effort for which Angie should be congratulated. She had researched well and had given the cast sound direction. Well done.
Conclusion – This was an enjoyable, lively and well sung performance with excellent dancing and choreography. The main characters were believable and belied their young years for which they should be commended. Thank you WOW for a wonderful evening, you certainly live up to your name!
With very best wishes
Sally Fisher – Adjudicator