2014 - Grease
The Show
WOW!'s 2014 show "Grease" ran from 17th – 22nd February 2014 to full houses every performance.
The show gained nominations for 4 NETG Awards including Best Young Actor (Ben Huish), Best Young Actress (Alice Tunningley) and Best Musical and the team playing of the leading boys in Grease was nominated for the Adjudicator's Award. Ben Huish was named joint winner of the NETG Best Young Actor award 2014 for his role as Danny Zuko in Grease.
Grease was also awarded the Best Youth Musical Award 2014 AND the Best Production Award 2014 by the National Operatic and Dramatic Association (NODA) for District 11, NODA East. The latter means that Grease was the best production seen by the NODA Rep of any type (musicals/plays/pantos) by any age group in our district!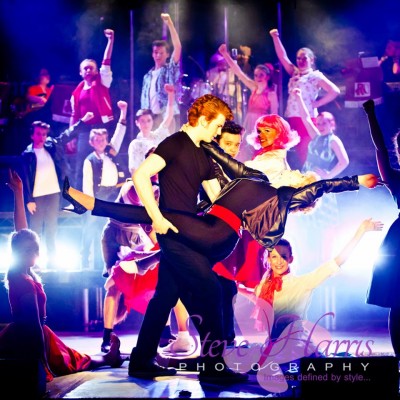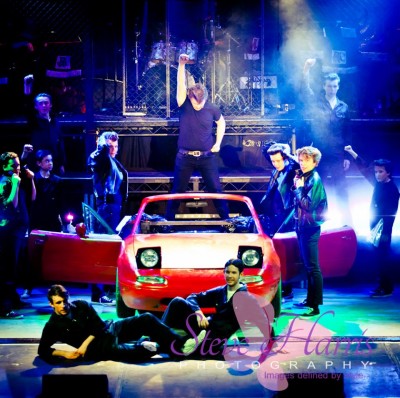 Reviews of Grease
Braintree & Witham Times Review by Ron Fosker
The names come at you thick and fast: Elvis, Pat Boone, Debbie Reynolds, Shelley Fabares, Ricky Nelson, Lucille, Blueberry Hill.
Yes, we are in the fifties.
In 1959 in fact, in the era of leather jackets, greased back hair and flowing petticoats, all prominently on display here.
Like any other era, we are reminded, there was also juvenile delinquency (stolen hub caps and a prospective gang fight), unwanted pregnancies and teenage personality clashes.
But above all there was the music.
Given the less than dazzlingly original plot – boy meets girl, they fall out and get back together again – director Nikki Mundell-Poole wisely foregrounds the music by locating the band above the stage and lets the large cast loose on a wide variety of vibrant colourful dance routines.
This is what WOW do best and they have rarely bettered the bounce and vitality of the production numbers in which the whole cast produce a cellarful of noise.
Although the story revolves around Danny and Sandy's on-off romance, this is a show that allows a full range of characters to occupy the stage, as evidenced in the finale when the ten principals take their bow together.
Ashton Reed, Sarah Williams, Rhianna Howard , Bella Tull and Hatty Gribben bitch and bicker beautifully as the high school clique the Pink Ladies, while Ben Huish, Ed Tunningley, Mark Ellis, Jack Martyn and Chris Tierney hover gloweringly around them in typical teenage boy fashion.
The solos are well handled by the main characters as well as brief moments in the spotlight for Katie Galley and Tim Rolph and a splendid cameo by 12-year-old Callum Hoskin.
But it is the big numbers that stand out, notably the two John Travolta--Olivia Newton-John No.1s You're The One That I Want and Summer Nights, together with the megamix finale.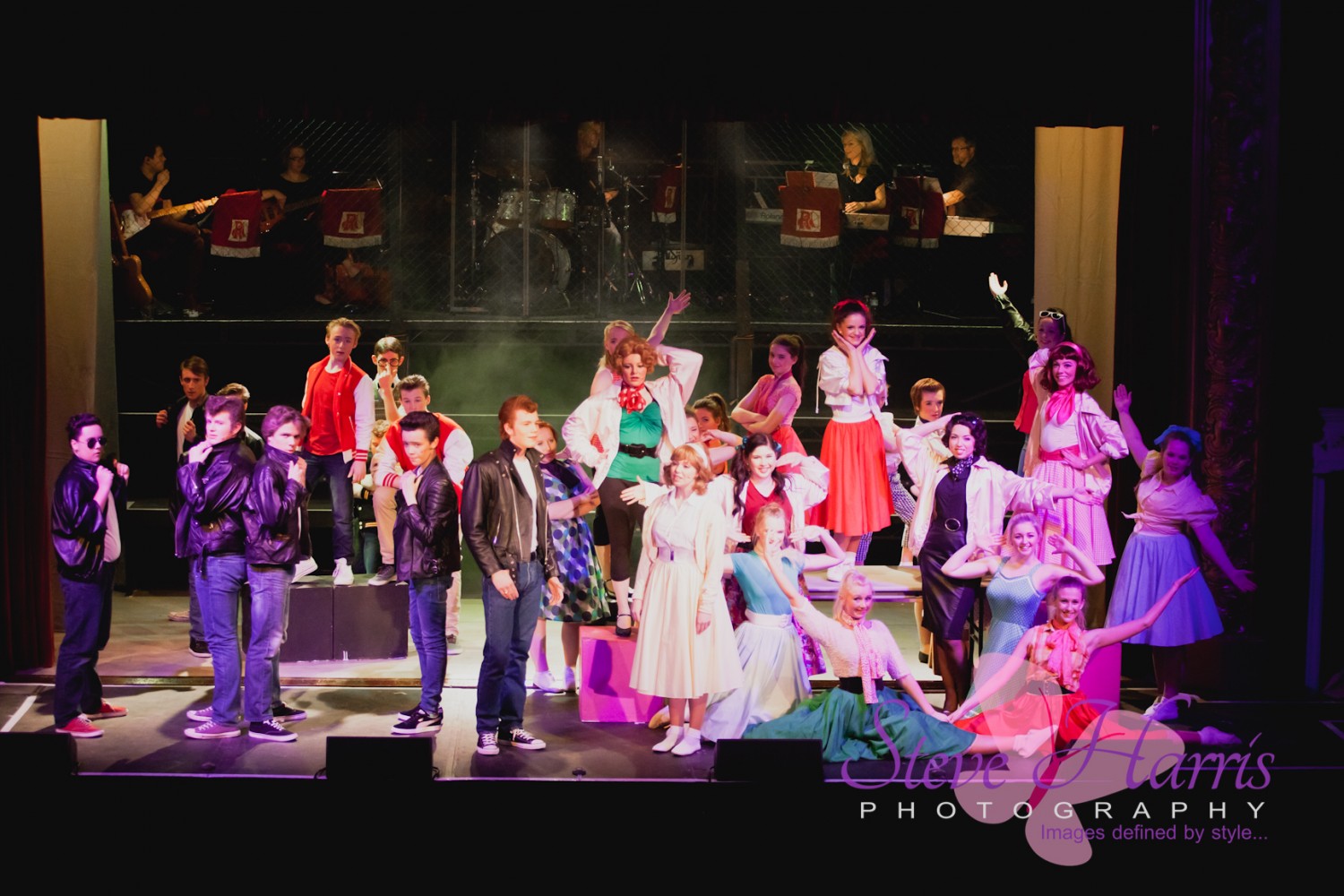 The show sold out its week-long run, a further tribute to the pulling power of this outstanding young troupe.
NODA Review
"WOW! presents Grease". I am quoting from the programme cover. It could have added a further WOW! for that is what this talented group gave us: It was Witham Operatic Winner!
Working totally as a company, it was evident that every move and all the wonderfully imaginative choregraphed numbers had been worked on with many rehearsals to get to this terrific standard. So exciting to watch and every person on stage looked so confident.
There were so many super characters in this production, I could not mention them all, but the two leads in Ben Huish playing Danny and Ashton Reed playing Sandy through to Sarah Williams as Rizzo and David Finch as a typical DJ as Vince Fontaine were delightful and led every member of the supporting important characters and chorus so well.
One of the real high spots was the terrific band and their huge contribution to the show. Elevated at the back on the stage all members under the direction of Emma Firth gave such remarkeable performances from Guitars, Keyboards and Percussion, with Paul in his glass cage. The tempi were something else - and set the place alive.
I do have to comment that here and there the dialogue was difficult to hear. Whether it was positioning on the stage or balance on the sound I was not sure.
It will be a hard act and show to follow. I do hope that this strong group of young people continue with the company for future shows.
Nikki as Director and Choreographer really topped the first class standard in this production and the songs and the backing was so positive from Emma and the band.
A sell out audience which is always good to see and from the buzz in the hall it was evident that everyone was having a good time.
Thank you for setting such a high standard with a Youth Group. Reading again from the programme, all the young people's ages on stage ranged from 11-21 years.
Some achievement. Well done to each and everyone whether on stage or crew, costumes and props etc. Thank you also for your welcome which was appreciated.
Michael Gray's Arts Blog

Another riotous reunion for the Rydell Class of '59. And in Nikki Mundell-Poole's stylish production, the raw raunchiness of the original – over 40 years ago – is triumphantly recaptured.
Especially in the inventively staged musical numbers: the kitsch routine, dry ice and teasing combs, for Beauty School Dropout [Tim Rolph the Teen Angel], the tyres and the lights for Greased Lightning, the backscrubbers and bath robes as the kids prepare for the High School Hop. Athletic, often witty, choreography, sending up the style just enough, sharply executed by an excellent ensemble, including some impressive mini-me girls and greasers, with Callum Hoskins stepping up to do a very polished Johnny Casino.
Those familiar rock'n'roll pastiches come up very fresh – the Hand Jive, the Summer Nights – with excellent solo work from, amongst others, Hatty Gribben in Freddy My Love, Sarah Williams in Worse Things, and Ashton Reed's stunning voice in Hopelessly Devoted.
Ashton plays the virginal Sandy, who is gradually seduced by booze, cigarettes and ear-piercing to find happiness in a leather jacket and the arms of her Danny, played with a winning blend of cute and cocky by Ben Huish.
It's a shame that the energy tends to evaporate in the dark hiatuses between scenes, and the dialogue, sometimes virtually inaudible, fares less well than the score. The Pink Ladies, for instance, might have picked up a lot more laughs for their banter.
But there's a whole load of lovely character work – David Finch's creepy DJ, Jack Martyn's Doody, Alice Tunningley's cheerleader, Dan Carr's Eugene and a great comedy duo from Rhianna Howard and Mark Ellis as Jan and Roger.
Emma Firth's superb band is elevated at the back of the stage, which works very well in this show, where the music is king.
Standing room only for this sell-out run – testament to WOW!'s reputation and the pulling power of what is now a classic of musical theatre.
Adjudication
Click here to read the adjudication from North Essex Theatre Guild.
Programme
Click here to download the programme for the show. It may take a few seconds to load.
12345 Warm Up Video
Click here to view the cast warming up for Grease.
Grease Gallery