2016 - Half a Sixpence
WOW!'s most recent show was "Half a Sixpence" which ran from 15-20 February 2016.
The show gained 5 nominations for North Essex Theatre Guild (NETG) Awards: Jake Collis for Best Young Actor, Amy Seymour for Best Young Actress, the shop boys and girls for the Adjudicators Award, the costume team for the King Costume Award and Half a Sixpence for the Collyer-Smith Trophy for Best Musical. Jake Collis was named Best Young Actor for his portrayal of Kipps and the shop boys and girls won the Adjudicators Award for their singing and dancing in Half a Sixpence.
Half a Sixpence also won the National Operatic and Dramatic Association (NODA) Best Youth Production 2016 Award for District 11, NODA East and Dexter Montgomery was named Best Young Performer as Chitterlow in Half a Sixpence.
Our congratulations to Director Faith Rogers, Musical Director Ben Firth, Assistant Director Louise Lachance, cast, crew and everyone involved for these very well deserved awards!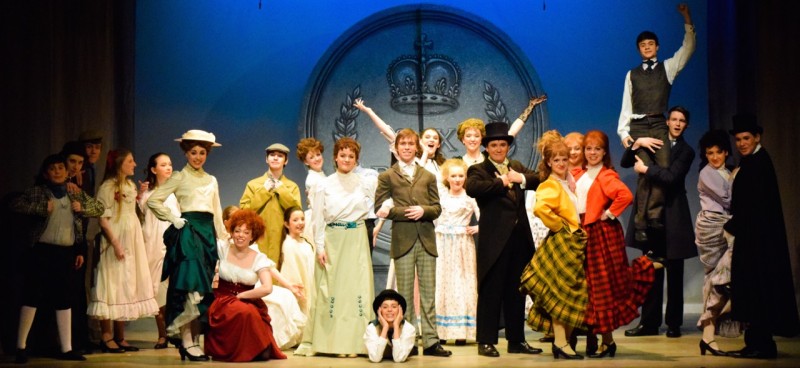 Reviews of Half a Sixpence
Braintree & Witham Times Review by Ron Fosker
Half a Sixpence was an intriguing choice for this teenage ensemble.
Not only would they have to ask their grandparents what a sixpence was, the show itself, primarily a vehicle for the then heartthrob Tommy Steele, has hardly stood the test of time.
But that did not matter. The cast under the able direction of recent WOW! member Faith Rogers, grabbed hold of it and turn it into a slick evening's entertainment.
Jake Collis and Charlotte Tofts were a winning combination in the central roles of Kipps and Ann, full of charm and wit and with a strong stage presence.
Dexter Montgomery camped it up as the playwright Chitterlow, while Amy Seymour was commandingly haughty as Mrs Walsingham and Tasha Gooderham was quietly effective as the demure but complex Helen.
But it was the ensemble pieces that stood out, a riot of colour and energy.
Max Lenoir, Charlie Smith and Harry Tunningley were full of life as Kipp's mates while the girl group of Alice Rydzik, Bella Tull, Alice Tunningley and Katie Galley were the glue that held the whole thing together.
Everything seemed to go up a notch when they were strutting their stuff.
The show, partly rewritten since its first appearance, was one that gave most of its performers a turn in the spotlight. Even though only the title song and Flash Bang Wallop were likely to be in any way familiar to the audience, there were plenty of other musical delights to keep everyone happy.
Michael Gray's Arts Blog
HALF A SIXPENCE
WOW! at the Public Hall Witham
15.02.16
Brought up on Glee and Grease, this very young company could hardly be expected to catch the spirit of this charmingly old-fashioned show – a museum piece even when it opened in the 60s – the last traditional musical to transfer from the West End to Broadway.
But I'm delighted to report that WOW's production, directed by Faith Rogers and Louise Lachance, with Ben Firth in the pit, is a lively, stylish evening.
The look is lovely – navy blue and boaters for the draper's apprentices, a vintage back-cloth for Folkestone's promenade, real Edwardian bats for the cricket match.
The dancing, too, is a delight, making the most of the restricted space – the ball, Economy, Money to Burn all inventively choreographed against Paul Lazell's simple, versatile set. And there are some real musical comedy performances in the large cast – amongst them Harry Tunningley's irrepressible Buggins and Dexter Montgomery's wonderful Chitterlow, knowing looks and extravagant thespian gestures, fond of Zola, Chekhov and Old Methuselah.
Kipps himself – the oldest apprentice in the employ of sour old Shalford [Chris Tierney] – is engagingly played by Jake Collis, with a winning Colgate smile and a nice line in self-deprecating narrative. His lost and confused soliloquy [What Should I Feel?] makes a nice contrast with the cheery chappy. The two women in his young life are Charlotte Toft's feisty Ann and Tasha Gooderham's elegant fashion-plate Helen. Too Far Above Me is a nice musical exposition of the class conflict at the heart of the H G Wells story. Amy Seymour makes a suitably unbending Mrs Walsingham, looking down on young Artie's attempts at social climbing.
The energetic ensemble – cricketers, carollers, customers and carpenters – is well deployed, with plenty of opportunities for cameos and striking stage pictures. The human staircase in particular sticks in the mind: a tiny moment, but typical of the care with which this show is crafted.
NODA Review
WITHAM OPERATIC WORKSHOP (WOW!)
HALF A SIXPENCE
Directed by Faith Rogers/Louse Lachance
Musical Director Ben Firth
Performed at Witham Public Hall 20th Feb 2016
A popular choice of show and a very receptive audience with this lively colourful production of "Half a Sixpence".A huge cast ranging from 11 to 19 year olds all totally giving their best with lots of energy.
Two very important characters in Kipps and Ann played by Jake Collis and Charlotte Tofts, who were well matched, Jake did exceptionally well with his character, and had a confident and very cheeky manner with his rise in circumstances from a shop worker to a wealthy man after inheriting a fortune. Charlotte as his childhood sweetheart, later to become his wife looked very good in her role, and had a clear singing voice. The situations she faced along the way were quite emotional and in the main these were well played.
All three apprentices Pearce, Sid and Buggins were super and gave such different characters which made them individuals. Charlie Smith as Pearce, Max Lenoir as Sid and Harry Tunningley as Buggins really made the most of their friendship with Kipps, all with confidence and style. I liked their opening quartet of "All in the Cause of Economy" and the harmonies came through well balanced.
The shop girls of Flo, Victoria and Kate were perky and a good match for the antics of the boys, and were lively bright young things of the period.
Dexter Montgomery as Chitterlow gave a believable actor with grand gestures and a commitment to his character. This is a super part to play and Dexter obviously really enjoyed playing Chitterlow.
Tasha Gooderham as Helen Walsingham, Amy Seymour as Mrs Walsingham and Tom Nicholl as Young Walsingham were a confident trio. All looked well in some lovely period costumes. Mrs Walsingham putting Kipps in his place was very well timed, and for a supposed Lady when losing her temper with him was perhaps rather loud?
Mr Shalford suitably the rather pompous owner of Shalford's Drapery Emporium with Chris Tierney also did well in this role.
Many other roles were played within the production and it was hard to believe the ages of the cast and the confidence they all displayed.
All the musical numbers were very well sung lead by Musical Director Ben Firth and a good orchestra. Occasionally the sound from the pit was a little loud against some of the soloists, but mostly the balance was very good.
The sound system was quite loud generally but acceptable. Superb sets and costumes all looking very professional were an asset to the production.
This company does encourage young people by having various workshops and a summer school for them, and also choosing shows which appeal and get them involved. It is so good to see young people going from chorus to main parts after getting some experience with the group.
The musical numbers which really got the cast going were "Money to Burn" and "Flash, Bang Wallop" which were great fun and sung with vigour.
We enjoyed the show and great credit to Faith and Louise for their direction and to all the cast and everyone in so many ways associated with the production.
Adjudication
Click here to read the adjudication from North Essex Theatre Guild.
Programme
Click here to download the programme for the show. It may take a few seconds to load.
A Taste of "Half a Sixpence"
The video below, made by cast member Alice Tunningley at Half a Sixpence rehearsals, gives you a taste of the show... how good it was and how much fun it was to perform.
Half a Sixpence Gallery