2010 - Hot Mikado
The Show
Check out the Hot Mikado programme here. Loading may take a few seconds.
Reviews
Review – Ron Fosker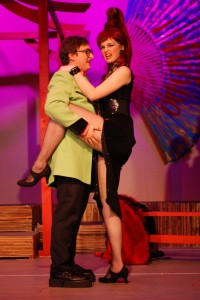 W S Gilbert may recognise some of his lyrics but what Arthur Sullivan would make of the music is another matter. For this is The Mikado updated – and then updated again.
Hot Mikado dates from 1939 with topical references to FD Roosevelt etc all dating from that period. But it has been played around with since then and now includes the likes of a Mikado in an Elvis wig and guitar backed by black-bobbed girls in 50s high-skirts.
Thus we get Three Little Maids done in the style of the Andrews Sisters and romantic leads fresh out of Rodgers and Hammerstein.
The ludicrous plot remains – yes, you can behead me in a month so long as I can marry Yum Yum now – as do most of the familiar songs, A Wand'ring Minstrel I, I've Got A Little List, Tit-Willow etc. But the teenage cast bring their own personalities to it and contrive a modern feel.
None more so than the romantic leads, Jake Davis and Zoe Rogers, reprising their double act of two years ago in High School Musical. Zoe has an ability to light up a stage with her charm and strong singing voice and Jake, something of a Public Hall veteran by now, brings his infectious personality to any part he plays.
They are given solid support by Faith Rogers and Martha Lawless – the other two parts of the Andrews Sisters and much else besides – as well as Josh Read as Pish-Tush, Ben Hermon (Koko) and Chris Adair (Pooh-Bah).
The Elvis Mikado (a remarkably mature performance by 13-year-old Mark Ellis) could have stolen the show, if it hadn't already been pinched by Tilda Bourne's Katisha.
A silky, sultry presence in an alarming hairpiece that even Lady Gaga might have disowned, she struts about the stage like a dominatrix, cackling, conniving and coruscating, before unleashing an amazing dark brown singing voice that owes rather more to Tina Turner than Dame Nellie Melba.
This was Nicola Mundell-Poole's first stint as WOW director and she will have enjoyed the opportunity of working with some burgeoning talents.
Review – Michael Gray
It really shouldn't work. Sullivan's tunes squeezed into swingtime, Gilbert's plot [and wit] left to fend for itself. But the Hot Mikado manages to appeal to the purists and the populists alike, and the talented young people of WOW, for whom the original must be as alien as Arne's Artaxerxes, had great fun with the song and dance numbers.
Against a strikingly simple oriental setting, the chorus routines were inventive and varied, invoking the Jitterbug and the Lindy Hop, as well as featuring a tap routine backing the Mikado's big number. The Act One finale was especially impressive.
WOW fielded a strong team of principals. Jake Davis, all-American boy-next-door, slender in denim, was an appealing Nanki Poo, with Zoe Rogers as his bobby-soxer Yum Yum: her vocal styling was spot on for The Sun Whose Rays. The other great vocalist was Tilda Bourne, as Katisha. She has a remarkable voice, and I especially liked what she did with her Hour of Gladness in Act One. Faith Rogers' Pitti Sing was very watchable, too. The Madrigal Quartet was very slickly done.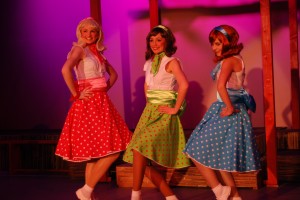 Ben Herman was a silly Koko, physically very expressive, with Chris Adair as the pompous Pooh Bah. The eponymous Mikado – the J Edgar Hoover of Japan – was confidently played by Mark Ellis, arriving in Titipu on a Vespa and commanding the stage as a diminutive Elvis.
This is sophisticated stuff. The three little maids – the right age for once – come on like the Andrews Sisters; the singers have to master jazz, blues and Hot Gospel, as well as Gilbert's tricky lyrics. They were brilliantly supported here by some nicely authentic sounds from the band. Even at Monday's public preview, it was clear this was a great success, a worthy follow-up to last year's Les Mis, and an auspicious omen for next year's West Side Story.
The directors were Nicola Mundell-Poole and David Slater, with Susannah Edom looking after the music. Choreography was by Julie Slater; the Dance Captain was Rachel Ellis.
Review – Ann Platten
This modern adaptation had everything going for a winner and WOW certainly came up with the goods in a fast,stylish presentation with every style of dance interpretation to make it a first class production.
The simple oriental set with the most exquisite lighting was so effective and was the static set throughout the production.
The cast gave us some memorable characters from the superb Ben Hermon's KoKo who was a real study in an outlandish style of dress and gave a great performance, to the stately Tilda Bourne's Katisha with a voice to really make the audience sit up and listen. The range of voice was remarkable in such a young lady.
The colourful and imaginative costumes added another dimension to this production and were a riot of colour and delight. Jake Davis as Nanki Poo gave a gentle style to his performance with a pleasing involvement with the audience.
Chris Adair as Pooh Bah and Josh Read as Pish Tush were very good, both drawing the audience to the story line, both very integral parts within the show.
Zoe Rogers as Yum Yum looked delightful and sang beautifully as did the other two maids, Faith Rogers as Pitti Sing and Martha Lawless as Peep Bo.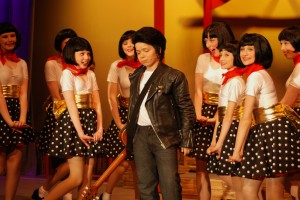 A Elvis look alike on a Vespa gave us the Mikado's entry. Played by Mark Ellis another delightful surprise in the second act. Mark delivered his dialogue in a very amusing fashion and gave us a very different slant on the Ruler of Japan.
The swing chorus numbers were really hot, and under the direction of Susannah Edom the orchestra supported and really enhanced the production.
Nikki Mundell-Poole and David Slater's direction was superb as was the choreography under the direction of Julie Slater.
A gem of a production. If you missed this show you missed a real treat. WOW are certainly making their mark in the area with consistent high standards.
Many congratulations to you all.