2009 - Les Misérables
The Show
WOW's 2009 production was Les Misérables School Edition, performed from Monday 16th to Saturday 21st February. It was awarded the accolade of "Best Musical in the Region by NODA" against strong competition from societies in Clacton, Colchester, Braintree and of course the main Witham society, WAOS.
Click here to download the programme from the show. Be patient - it may take a few seconds to load.
Reviews
Local journalists Michael Gray and Ron Fosker reviewed the show after visiting over the course of the week, their reviews are below:
Michael Gray's Review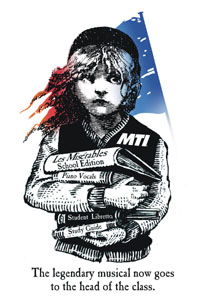 "Hugo's historical epic is too big for most stages, but WOW managed to tell his timeless story with passion and clarity. I particularly appreciated the precise diction of the whole cast. We heard words that are blurred even in the Queen's, even on the CD.
The familiar Bayard engraving stared out at us from the front cloth, then, against a charcoal sketch, the actors formed a series of stage pictures, letting Schönberg's operatic score work its magic. Nigel Northfield's lighting created some striking atmospheres.
And there were some very accomplished singer/actors among the large cast. Tom Ashby's solemn Bishop [he was later a student revolutionary], Zoe Rogers as Cosette, with a splendid Marius in Jake Davis. The Thenardiers, always a popular turn, were sharply characterized by Amy Trigg and Samuel Marks [in a frightful ginger wig!] Gavroche, the child who dies a hero's death, was a lively characterization by Elliott Elder. Faith Rogers was assured and affecting as Fantine, especially in Come to Me, her duet with Valjean, and in her return in spirit as he dies. Callum McKenzie was a strong Enjolras, and Sam Carlyle a touching Eponine.
Thomas Holland, slight of build and of voice, nevertheless made a memorable Valjean. Bitter at the beginning, his nobility shone through in later scenes, and he shaped his numbers with confidence and real empathy. His nemesis Javert was Thomas Clarke, whose strong voice and considerable stage presence made the most of "Stars" and his Seine suicide.
Perhaps inevitably, the choreography was limited; most of the effects were static. Amongst the most successful moments were the Montreuil ensemble, and the menacing barricade, lit from behind. "Empty Chairs", with the ghosts of the fallen, was also very moving.
WOW, and their Artistic Director/MD Jill Parkin [assisted by David Slater], should be very proud of their Les Mis Lite. Even on the first night the production had power and polish, and the audience rightly cheered it to the Public Hall rafters."
Ron Fosker's Review
It only goes to show what little people can do, says one of the characters in this school edition of the West End classic.
Indeed it does.
Figuratively speaking WOW are the little people of Witham Amateur Operatic Society and rarely can their seniors have put on such a vibrant, pulsating, high-class show as this.
Colourful ensemble numbers melded with outstanding individual performances as the cast, all under 19, threw their all into the evening. The choreography, scenery, sound effects were all spot on and musical director Jill Parkin can be immensely proud of what she has produced.
Strong voices and confident acting skills abound. Faith Rogers, Sam Carlyle and 13-year-old Zoe Rogers all handle their poignant and central roles with strength and poise.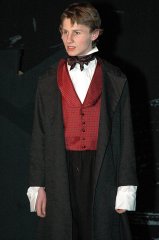 Thomas Clarke's deep resonant voice contrasts with Elliott Elder's cheeky chappie routine as the little person in the quote above while Jake Davis,14, a cheeky chappie himself only a couple of years ago, has matured into a powerful male lead.
The wonderfully inventive Sam Marks and Amy Trigg almost stole the show as the coarse and conniving innkeepers but the actor around whom the whole thing revolved was the outstanding Thomas Holland.
He ranged from an angry young prisoner to a dying old man and his superbly controlled voice ranged almost as far. His coup de grace was in the opening scene in which he displayed a hitherto unseen edge with a voice that was more Kings of Leon than The King And I.
But Thomas was the tip of a brilliant iceberg. The star was the cascading ensemble of talent ho put on one of the best evenings local musical theatre, adult or otherwise, has produced for many years.
Gallery