WOW!'s award winning Guys and Dolls ran from 14-19 February 2022. WOW was awarded Best Youth Production 2022 in the NODA East Distrct 11 region.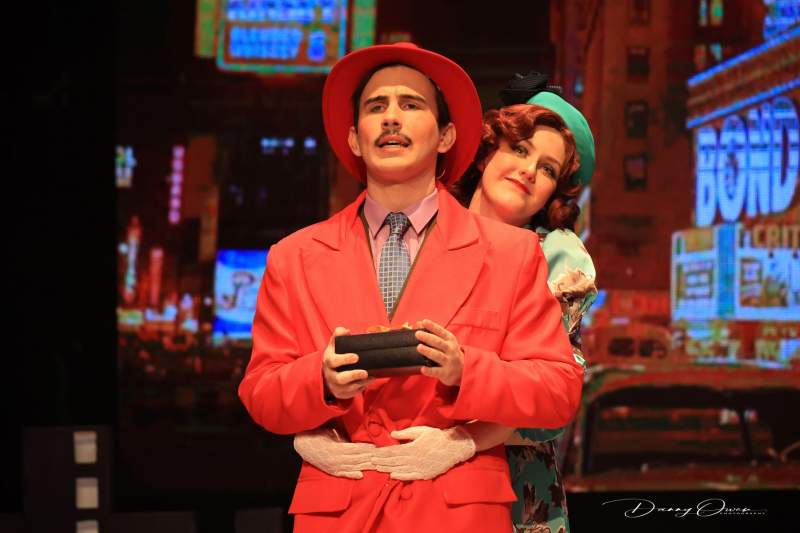 Guys and Dolls is a classic romantic musical comedy. It is based on characters and situations in the books of Damon Runyon. The musical was written in the 1950's with music by Frank Loesser.
The show premiered on Broadway in 1950, where it ran for 1,200 performances and won the Tony Award for Best Musical. The musical has had several Broadway and London revivals, as well as a 1955 film adaptation starring Marlon Brando, Jean Simmons, Frank Sinatra and Vivian Blaine. The film does not fully represent the stage show as several of the stage songs were omitted and replaced by other numbers.
The stage show went on the receive numerous awards including Tony Wards, Drama Desk Awards and Laurence Olivier Awards, not only for the Broadway original but for many subsequent revivals in America,
London and Australia.
NODA Review
This was the 25
the anniversary production by this group of highly talen ted young people. This well known and much loved show took place in New York City depicted by the excellent set, designed by Nikki Mundell Poole and constructed by Graham Green, with screens and props to effect the changes. The Hot Box night club setting w as very colourful as was the Havana setting. There were some superb digital effects (Trevor Drury and Ian Holmes ) Liv Possee played Sergeant Sarah Brown, the leader of the Save A Soul local mission and was suitably demure until she met Sky
Masterson, played by Jenson Bacon. Both had excellent singing voices and worked well together on stage and I especially
enjoyed their duet of My Time Of Day (Sky) and I've Never Been in Love Before (Sarah). A very good pairing which allowed both to bring o ut their own interpretation of their roles. Sky had a really strong voice and I thought that his rendition of Luck Be a Lady, sung with the guys was very powerful. Miss Adelaide (Hannah Ireland) was all that a night club hostess should be; loud, extravagant, effervescent and cheeky, with a superb singing voice. I enjoyed the songs which she sang with the Hot Box Girls ( who were brilliant), especially Take Back Your Mink and A Bushell and a Peck. Super dance routines as well ! There was a tender but highly charged duet ( Marry the Man Today) with Miss Adelaide and Sarah which was a credit to both. Madison Austin, as General Matilda Cartwright, leader of Save A Soul had a reassuring and calming presence when she visited the local mission. Fraser McLauchlan was an energetic Nathan Detroit trying to persuade venues to run an illegal crap game and Will Hackett was a first class Nicely Nicely Johnson. He was a sensation in leading the company in such a lively Sit Down You're Rocking The Boat routine which was bri lliantly choreographed.
Ben Rolph, as Benny Southstreet, and Ryan Wuyts, as Arvide Abernathy, were both well cast as guys and acted out their roles well. Michael Stewart ,as Lt Brannigan, played the part of the rather dreary local policeman trying to catc h the guys at their crap game. Without exception, all the singing was powerful, with the sound levels well balanced. The energetic and enjoyable dance routines were very well choreographed and a pleasure to watch.
The cast of Hot Box Girls, Guys, Salvation Army members and chorus all contributed to this sparkling production which moved on at a cracking pace. And all the cast maintained their
American accents throughout. Well done to you all.!
The large band, under the direction of Musical Director Emma Nash, was versatile and created just the right level of support to the singers on stage.
Finally, I thought that the wardrobe team had done a great job with the colourful costumes and the many costume changes throughout.
Many congratulations to Director and Choreographer Nikki Mundell Poole on having the inspiration and vision to bring this familiar script to the stage.
Well done to everyone involved with the production in any way.
I really enjoyed the evening.
NETG Review
Witham Operatic Workshop (WOW!)
"Guys & Dolls", directed by Nikki Mundell-Poole
Adjudicated by Amanda Powell, assisted by Liz Mullen
19/02/2022
FRONT OF HOUSE
It was very busy in the foyer on arrival, so FOH were unable to welcome us immediately. This, however, was no fault of the FOH staff, who were, quite rightly doing their jobs attending to the full house audience. It is always so encouraging to see a full house for local entertainment. Once seated, the FOH staff were very welcoming and attentive, making sure we had programmes and refreshments etc.
The programme looked very slick, bright, and professional. It had plenty of interesting information to peruse with a good synopsis of the musical. I especially liked the company Q&A section, a nice fun addition to the programme.
SETTING/STAGE MANAGEMENT
I must commend the people who came up with the design for this set. The use of a huge LED screen at the back was fantastic, meaning you could keep the scenery to a minimum and leave the stage free for cast members to perform. I think this is the way forward for smaller theatres.
As I walked into the theatre the stage immediately grabbed my attention. The 'Guys & Doll's' logo on the LED screen gave the illusion of being suspended in mid-air, surrounded by a blue hue and very effective spotlighting. It looked very professional and eye catching. The use of the New York skyline silhouettes with lit up windows were also an effective touch. A lovely use of smaller LED screens either side of the stage as well, both for pinpointing where we were throughout the show, and for informing us about upcoming shows and advertisements during the interval etc.
Well done to Trevor Drury, who operated the LED screens. The changes in each scene, depicting which location you were in, were effective and seamless. I especially liked the 'postcards' section when they were visiting Havana.
The stage management team, headed up by Gemma Gray were quick and efficient with all the scene changes, meaning the band didn't need to 'vamp' for any length of time throughout the show meaning the audience could remain engaged.
Tracey Hackett and assistants did a good job of procuring the correct period props for this show.
LIGHTING AND SOUND
A well-lit stage, I could only see one very tiny patchy section DSR, but I know that only having one small patchy area is a miracle in theatreland, so well done! As I have previously mentioned, the ambience the lighting gave whilst people were entering the theatre was very eye-catching and professional. This continued throughout. I am not a fan of having to squint to see a performer, so I was delighted to find that the mood lighting, while still effective did not hinder the audience's ability to see clearly at any point during the show. Good use of the follow spot throughout.
Sound was beautifully controlled. We could hear every single word from the main performers, not one single line was lost. I understand the cost restrictions etc. in amateur productions, especially for sound equipment, but I did feel it was a shame that we couldn't always hear the ensemble.
MUSIC
Congratulations to Emma Nash and the band. It was lovely to hear a clear, 'old school' orchestra sound. You supported the cast sympathetically throughout, providing a harmonious balance between orchestra and voices. You were a pleasure to listen to.
CHOREOGRAPHY
Nikki Mundell-Poole arranged the dancing to suit the period perfectly, it contained a lot of variety and overall, the choreography was within the capabilities of those performing. I especially liked the strong opening sequence, with all the hustle and bustle of the city very well depicted. It had just the right amount of 'business', enough to set the scene, without distracting the audience from the main story telling. Both the ladies and gentlemen
took to the dancing elements of this show with gusto, some lovely tableaux, and lines worthy of 'Strictly'! Some other notable and strong moments were 'Sit Down You're Rocking the Boat', the dance/fight sequence in Havana and the Hot Box Girls numbers.
COSTUME
It's always a big task to dress a large cast with lots of costume changes, so it was great to see the wardrobe team achieve this so well.
I loved the colourful suits, that really 'popped' against the darker backdrop, but wondered whether Nathan could have been in a slightly different and perhaps sharper outfit, so he could stand out as the smooth-talking businessman, but that is just a personal preference.
The ladies Hot box outfits were very apt, and I especially liked Adelaide's wardrobe and wigs. I did however feel that the Sally Army ladies skirts were a little on the short side and would have been worn well below the knees during that period.
PERFORMANCES
LIV POSSEE (Sarah Brown): We see Sarah start out as a conservative, kind-hearted missionary who finds her adventurous side, fall in love with Sky, and the anguish their differences bring. I felt Liv conveyed all these differences very well throughout, clearing showing her adventurous and fun side (not sure I would like to take her on in a drunken fight!). The tender moments with Sky were lovely to watch and she held her own in 'Marry the Man today'.
JENSON BACON (Sky Masterson): He is a charming and lucky gambler who likes to share his anecdotes and views of the world. We see his turmoil as he meets 'the one' and his ultimate ability to change.
Jenson had a natural acting style that was very suited to Sky. He had a lovely vocal tone, with a good clear singing voice and was confident and relaxed in this role. I especially liked his tender moments with Sarah and his strong and enthusiastic delivery of 'Luck Be a Lady'.
HANNAH IRELAND (Miss Adelaide): This is such a great role to get your teeth into and Hannah certainly did! Her cutie-pie squeaky New York accent was delightful, as was her strong singing voice and dancing. Hannah had great stage presence and showed the heartbreak and frustration of being engaged for 14 years to a 'no good' craps game organiser extremely well, I really felt for her! I particularly liked her rendition of 'Adelaide's Lament' (although it would have been nice if she could have been moved out from behind the table for some of the song), 'Sue Me' and 'Marry the Man Today'.
FRAZER MCLAUCHLAN (Nathan Detroit): He portrayed the commitment phobe Nathan extremely well and the 'tache was a lovely touch. He conveyed the air of someone constantly 'on the make' very well throughout and did a great job of pacifying Adelaide, with promises of marriage 'some time'! Good singing voice and character work.
WILL HACKETT (Nicely-Nicely Johnson): He is the good natured, constantly hungry lacky of Nathan Detroit. He has an air of naivety, with a cheery and sincere disposition, which Will played 'to a tee'. Very strong character work and a strong voice with a lovely tonal quality. I loved his rendition of 'Sit Down You're Rocking the Boat'. Nicely-nicely done Will!
BEN ROLPH (Benny Southstreet): He is one of Nathan's friends and Ben caught my attention immediately in 'Fugue for Tin Horns' with his natural, confident and relaxed acting style. Strong acting, vocals, and dancing (especially in the Havana sequence).
RYAN WUYTS (Arvide Abernathy): This was a nice warm interpretation of the good-intentioned Uncle (usually Grandfather). Ryan was lovely to watch, with a very nice singing and acting style, and came into his own during 'More I Cannot Wish You'. A nice portrayal Ryan.
MICHAEL STEWART (Lt Brannigan): I was very impressed with Michaels acting performance and lovely vocal tone. He looked right at home on the stage and convincingly portrayed the lieutenant's air of authority and frustration at never quite catching the dastardly gamblers!
MADISON AUSTIN (General Matilda Cartwright): She is an authoritative but caring leader of the Save-a-Soul Mission which Madison acted beautifully. A very pleasing voice to listen to.
HOT BOX LADIES (Mia Nichols, Sophie Hill, Anna Escott, Poppy Taylor, Maddie Smith & Grace Salfairso): Excellent dancing and facial expressions throughout from all these ladies. Every one of them looked like they were having fun. Having to deal with lots of props on stage can be a nightmare, so well done for managing to grab all those items of clothes etc. at the end of 'Take Back Your Mink'.
GANGSTERS (James Green, Kieran Wingrove, Fionn Crickett, Jamie March, Cleo Gunn, Alex Batt, Ben Wilson & Luke Roberts): Some good 'rat pack' style portrayals from this group of gangsters, who all looked excellent in their colourful suits. It felt a little like the words were going to get away from the couple of you who were in 'Fugue for Tinhorns' and the ensemble pace dipped ever so slightly in 'Luck be a Lady', so just be aware in future productions the importance of keeping the performance levels up throughout a number/show. A beautiful scary and unemotional portrayal of Big Julie from James Green.
SALLY ARMY (Lauren Holmes-Cook, Emily Gager & Sophie Boyce) & FEMALE CHORUS (Hannah McNeill & Emily McNeill): Some lovely acting and dancing moments from these ladies. Supporting your fellow cast members is an extremely important task which you all managed beautifully.
PRODUCTION
Nikki Mundell-Poole's production was greatly entertaining. The ensemble work had many high points, and the principles all portrayed their characters well. The staging was very effective and of an extremely high standard. The Orchestra was delightful to listen to and the music and sound levels were just right. The transitions from scene to scene were very smooth, and the dancing, movement and blocking in the show was generally of a high standard. There were just a few moments in the show that lacked pace at times, but overall, I found the production to be well-conceived, full of fun with lots of strong performances. It was a pleasure to watch a good variety of young talent. Well done WOW!
Programme
Guys and Dolls Gallery